This article was featured in the Daily Item
on Saturday, September 23, 2006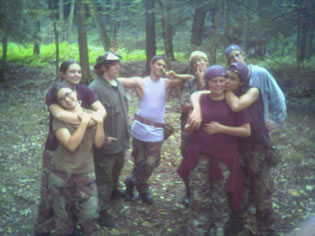 The Innerstate 180 youth group had their own Survivor experience with a positive twist.
MILTON - The "Thriver: Don't Just Survive" series was kicked off Sept. 13 and continues through Nov. 8.
This series looks at the impact others have on our lives and the impact we have on them.
The popular reality TV series "Survivor" puts ordinary people in a survival challenge focusing on exploiting others to win a prize. "Thriver" has a positive twist.
"Thriver will show us how to overcome the mediocre Christian life and learn to thrive in Christ," said Pastor Scott Kendall, youth pastor of Christ Wesleyan Church. "Thriver is teaching us all a huge lesson... there is a big difference between surviving and thriving in this world," he said.
Eight youth and three leaders, from Innerstate 180, traveled to a remote wilderness to have their own "Survivor" experience. The students, from different schools in the area, had only a knife, canteen, and a Bible to survive with for six days at a location undisclosed previously to them. They were divided into two teams and had six survival challenges to compete in during the week. A Thriver Council meeting was held each night to vote for the Most Valuable Teammate each day. This MVT earned a reward to help him or her that week or had an opportunity to trade it in for something the entire team could use.
"There is a big
difference between
surviving and thriving
in this world."
The week was videotaped and will be shown throughout the series.
Youths included Bryce Diener, Nate Hoover, Logan Walters, Drew Ulmer, Jana Baysore, Melinda Bachman, Michelle Bachman and Heather Reeder.
Adult leaders, in addition to Pastor Kendall, were Erin Kendall and Brian Paulhamus. Pastor Kendall said the eight youths "displayed incredible perseverance, flexibility and teamwork."
"All 11 of us that went on this adventure came out a different person than when we left. We are confident that everyone who attends this series will experience some of those same positive changes in their own life," he said.
Innerstate 180 is the youth ministry of the church that reaches 16 school districts in three counties in the area. They are known for their large and cutting-edge ideas such as last year's "Primp My Ride" and "While You Were Out: I-180 Edition" series. "With 16 different school districts represented in our youth group, it is very important for us to understand the importance of community and selflessness," Pastor Kendall said.
"Today's most popular reality TV shows send a message that it is better to look out for yourself than to look out for others. We feel that this is an unhealthy way to live your life and leads to a hopeless and lonely existence," Pastor Kendall said.
"Traditional approaches of reaching youth are becoming less effective, the method had to change. We are striving to be cutting edge," he said.
The series continues from 7 to 8:30 pm Wednesday in the church gym.