Dear Students, Family, and Friends,
I wanted to share my thoughts with you concerning the recent tragedy on the campus of Virginia Tech, that you are undoubtedly aware of. This incredible act of in-humanity, coming so close to the anniversary of another massacre at Columbine High School, causes me to reflect on the current condition of our country and this world in which we are strangers.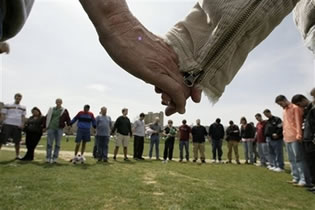 As we focus on the purpose of membership this year, with so much pain in the world around us, I can't help but feel burdened for the lost. I think of my own struggle to understand and cope with these tragic events that attempt to crush my own spirit. How much more the pain and despair must be for those people around us that are more directly influenced by these horrific events and do not have a church family to support them, such as ours. Where do people find hope and peace in the midst of such crisis, if not in Jesus Christ and amidst His Church?
Our Thriver and REAL Amazing Race series have helped us consider the great benefits that come from belonging to the Body of Christ. We have recognized the difference we can make in our world, as the local church bands together toward a common purpose. We also have recognized the support, encouragement, and love that comes through our spiritual connection with each other. Let me urge you to now consider the incredible responsibility to bring others into this family of hope.
While you deal with the impact of the recent tragedy at Virginia Tech in your own life and as you discuss this current event with those around you, please take the time not only to pray, but also to take action. Take the time to share the hope you have found in Christ and His Church with others around you that have not yet found it. While prayer is important, and we should all join our President in this vigil, we are called to even more.
Remember that every problem in our world today is ultimately a spiritual problem. Unbelievable events, such as those in Blacksburg, VA and Littleton, CO, point out the corruption of sin that plagues this world we live in. The only answer to the evil in this world and the only power over sin is found through the shed blood of Jesus Christ. With terrorism, worldwide conflict between nations, and horrific acts of violence happening all around us, there has never been a time in the history of our world when the message of the Gospel has been needed more. With natural disasters, poverty, famine, and disease claiming more lives than ever before, there has never been a greater need for the Church to stand together and offer their support.
The reality of our desperate world provides the Church with an awesome opportunity to shed the light of Christ and show His love. Please join me in not only praying for the victims of this most recent tragedy, their families, and friends, but also in living out the commission to which we have all been charged, with renewed motivation and fervor.

Pastor Scott